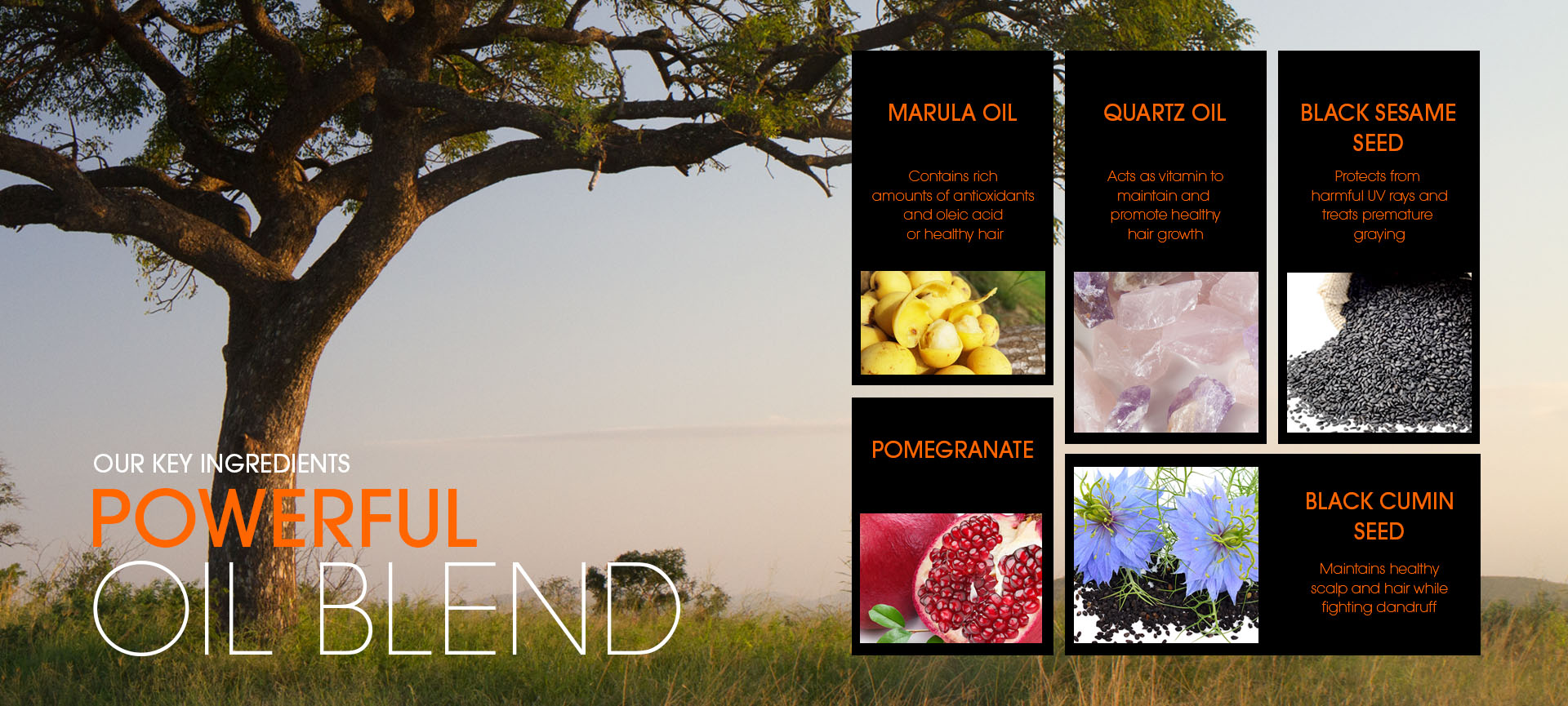 MARULA OIL
Rehydrate, Protect, Regenerate. Hydrates deep into the roots. Contains up to 10 time more Vitamin C than orange fruit. Oleic acid stimulates hair growth
QUARTZ OIL
Strengthens, Promotes hair growth. Acts as vitamins to keep hair maintained without thinning.
BLACK SESAME OIL
Keeps natural hair color. Protects hair from harmful UV rays. Treats premature graying. Locks in moisture. Treats and fights dandruff
BLACK CUMIN SEED OIL
Maintains healthy scalp and hair. Reduces dandruff. Increase shines and luster. Promotes healthy hair.
POMEGRANATE
Main fragrance oil boosts energy with an uplifting fresh scent.
COCONUT OIL
Stimulates hair growth. Promotes scalp health. Moisturizes dry hair and adds luster, shine, and softness to hair.
SHEA BUTTER
Prevents breakage. Moisturizes dry hair. Reduces scalp irritation.
WALNUT SHELL POWEDER
Prevents hair loss. Strengthens hair. Fights dandruff
AVOCADO OIL
Moisturizes hair. Repairs and strengthens hair. Seals cuticle cells to prevent hair from breaking. Detangles hair.
JOJOBA SEED OIL
Moisturizes hair. Protects against drying, breakage and split ends. Nourishes hair with Vitamins B, C, and E. Promotes hair thickness and prevents hair loss.
SILK AMINO ACIDS
Strengthens damaged hair. Bonds to kertain found in hair. Creates protective layer that locks in moisture. Adds shine.
CASTOR OIL
Prevents breakage. Moisturizes hair and reduces scalp irritation.
ARGAN OIL
Rich in antioxidants. Nourishes and detangles hair. Seals split ends and adds shine and luster to hair.
ROSEMARY
High in antioxidants and anti-inflammatory. Promotes hair growth and prevents hair loss. Unclogs pores, and cleans hair follicles. Stops spreading of gray hair. Removes dirt and oils from hair.
CHAMOMILE
Prevents dandruff.
WITCH HAZEL
Balances pH. Helps prevent hair loss. Nourishes scalp to get rid of dandruff.
CLARY SAGE
Stimulates hair follicles, Increases blood circulation on scalp. Balances scalp oils and strengthens hair strands. Naturally conditions hair.
BERGAMOT
Promotes hair growth. Cleans and relaxes the scalp. Conditions and adds shine to hair.
ROSEHIP SEED OIL
Fatty acids nourishes hair to prevent further environmental damages. Regenerates thinning hair.
QUINOA
Proteins provide amino acids to repair, strengthen and protect hair.
MACADAMIA SEED OIL
Calms hair of frizz, tangles, and dullness. Lightweight, non-greasy nutty oil adds shine. Moisturizes scalp.
SUNFLOWER SEED OIL
Improves scalp health and stimulates hair growth. Eliminate frizzy hair while providing softness and shine. Deep moisturizing properties.
HYDROLYZED WHEAT PROTEIN
Prevents hair loss. Repairs damaged hair. Forms shiny, lustrous film on surface of the hair and increases hair's flexibility and elasticity. Adds body and volume to hair.
STRAWBERRY
Provides sweet fragrance while protecting the hair.